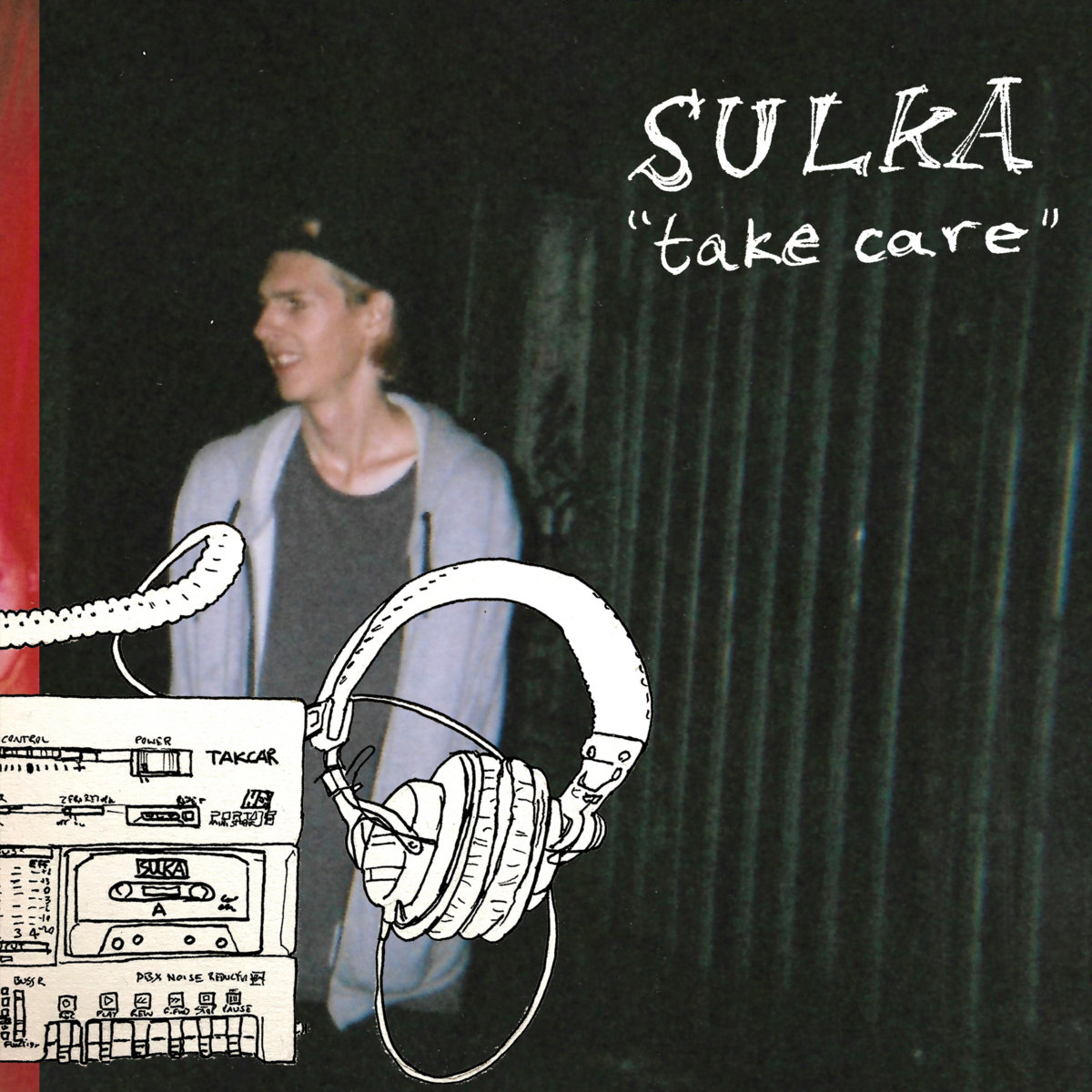 Sulka is the solo project of Glasgow-based singer-songwriter Lukas Clasen, who over the past four years has released a string of EPs and proved himself a stalwart of the Glasgow live scene. Take Care, his latest release on Pictish Trail's Lost Map Records, represents the apotheosis of Clasen's musical development to date. Despite clocking in at less than thirty minutes, this solid collection of melody-driven tracks in the vein of Badly Drawn Boy and Elliot Smith offers up plenty for this interested listener to digest and unpick.
Clasen sticks close to the DIY ethos, playing and recording every instrument himself and relying only on his backing band for live performances. While many may be quick to label his music lo-fi, there is nothing rudimentary or simplistic about either the recordings or performances here. Take Care is clearly the work of an accomplished musician comfortable on every instrument he uses. Ill content sticking to straightforward chord progressions or pop conventions, his music ventures down more adventurous paths than many of his ilk, ambitiously merging styles and genres and cycling between time-signatures with unshakeable ease and self-assurance. Examples of his forward-thinking approach include 'Punctured', which teases sudden dynamic shifts between lone acoustic guitars and full-bodied choruses, and 'Porch', which glides effortlessly between unconventional verses and a breathtakingly infectious hook. The dreamy acoustic ballad 'You & I', meanwhile, acts as counterpoint to the fuzzed-out barnstormer 'Chasing' which follows, it's churning guitars and ear-punching drums twinning a garage-rock energy with impressively complex rhythmic arrangements.
As a result, and in spite of its brevity, Take Care never sounds lacking in ideas. Experiments in nonconventional time signatures are executed effortlessly without ever sounding contrived, forever serving the inviting melodies that lie at the album's forefront. This equilibrium ensures that the music embraces the simple appeal of infectious hooks without ever feeling too accessible, too easily digestible. Clasen's instrumental talents are enhanced by his ear for subtle melodies that worm unobtrusively into the listener's brain with all the coercion of a friendly hug. Indie-pop opener 'Fear It' sets precedence without pomp or ceremony, its sunny chorus introduced within the album's opening twenty-five seconds. Though Lukas recently called 'Fear It' "probably the catchiest tune" on Take Care, it certainly has plenty of stiff competition. From the warm guitar tones and lovestruck singalong chorus of 'She Cares', to the sublime, hushed intonations of 'Fell Out of a Sky', the ratio of earworms to runtime here is quite remarkable. Standout single 'Hollow Days' is a gorgeous meditation on feelings of displacement that feels particularly suited to Covid times. Melancholic yet comforting, beautiful in its restraint, the track is wonderfully complimented by a found footage lyric video from Jack Guariento. Both visuals and sound echo solitary days spent wandering half-empty streets, staring contemplatively at an atomized world that seems physically close, yet psychologically so far away.
One word that best describes the artistry of Sulka's music is subtlety. His greatest songwriting talents lie in his willingness to introduce ideas without ostentation or the need to draw unnecessary attention. Hooks can hang on something so simple as a brief guitar flourish, as is the case on 'Big Divide', a sweet meditation on friendship which has an almost pop-country flavour. Clasen's voice perfectly exemplifies his eagerness not to hurl ideas around with undue force. He plays to his vocal strengths, layering words just above the instruments such that they never enjoy complete precedence. Vivid images and quiet instrumental embellishes peer shyly from the mix to reward closer listening, like the subtle drones on 'She Cares' or Niamh Baker's delicate backing vocals on the first and final tracks. That Clasen has the maturity and confidence to introduce these elements so carefully is testament to his ear for quality sound. He clearly recognizes that great songwriting is less about what's thrown in the listener's face, and more about what small gems are tucked away for only the more discerning ears to uncover.
If I have any qualms with Take Care, they lie solely in its two instrumental tracks, both of which I find captivating and so greedily wish had been more fully developed. 'Sleep Cycle' is particularly intriguing, teasing out an interesting contrast between gorgeous acoustic arpeggios and an enormous plodding bassline that I believe could have progressed into a wonderful, if slightly unsettling, lament. The ideas presented on 'Instrumental 2' are also interesting enough to merit fleshing out, though it does lead nicely into 'Fell Out of a Sky', morphing from an unfinished afterthought into a well-crafted transitionary moment.
Take Care finishes on the prophetic 'It's All Over Now', an alternative version of which first appeared on last year's Cheer Up, Kid! collaborative EP between Sulka and Moonsoup. The beefed-up and more enlivened version that closes the album is a fitting finish in ways beyond its winking titular reference. The repeated mantra "It's all over now, it can't last forever" sounds like a stoic acceptance of life's unpredictable yet necessary cycles, and is an echo of Sulka's own unerring approach to writing and recording new music. With an enviable work-ethic and a desire to keep building and improving, it seems certain that Sulka will not allow himself to rest on the laurels of Take Care's success. Rather than an apex, this album feels like a foundation from which his sound can continue to solidify and expand, a moment from which he can venture forth with the same self-confidence this work so naturally exudes.