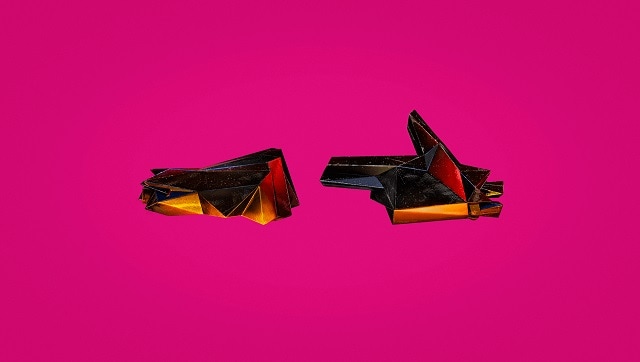 There is a cliché in the music industry that states you have your whole life to prepare for the first album, and only a year to prepare for the second. Longevity is a hard game, and many artists who happen to dazzle with brilliant debuts only end up collapsing under the weight of their own potential. Today, in the age of internet streaming, attention spans are short. You have the briefest of moments in the spotlight before listeners grow bored and you are once again swallowed up by that rancorous beast we call anonymity.
Run The Jewels are the exception to the rule. The duo – which consists of rap veterans Killer Mike and El-P – should really, by hip-hop standards, be settling into the twilight years of their careers. Even before the birth of RTJ, both MCs had already established themselves as go-to names in underground hip-hop. First uniting in 2012 through mutual involvement in each other's solo projects (El-P produced Mike's incendiary R.A.P. Music, while Mike featured on El's Cancer 4 Cure), the pair decided to capitalize on their obvious chemistry and begin a new joint project together. Run the Jewels, their 2013 debut, was a real rapper's delight, the swaggering lovechild of two lyrical vets who, though stylistically different, shared a disdain for the 'fuckboys' that were running rap's new-school in the early 2010s. A year later came Run the Jewels 2, a heavier and more political affair, and this in turn paved the way to 2016's Run the Jewels 3. Though bloated in parts, this third album consolidated all that was great about the first two. Not only were the beats harder, but the lyrical themes were denser and more focussed. Arriving in the first year of Trump's presidency and alongside the continued growth of the BLM movement sparked by repeated incidents of police brutality, the album tackled many contemporary themes that, unfortunately, remain more than a little relevant to this day.
Four years on, and Run The Jewels has now returned with a fourth album that, quite miraculously, improves once again on all three of its predecessors. Coinciding with the murder of George Floyd, the duo, as had previously been their wont, decided to release RTJ4 early and for free on their website. The reasons for this are apparent the minute you scan over the album's lyrics; RTJ4 is an artistic reflection of this exact moment, a work as pertinent to its own historical context as Marvin Gaye's What's Going On was to the anti-Vietnam war protests of the late 60s and early 70s. It is an expression of frustration and of fury, an album of protest music that echoes the call for change being made by many protestors in America's streets at this very moment.
RTJ4 opens with 'yankee and the brave (ep.4)', an explosive introduction that sees Mike and El burst guns blazing from the starting block, firing on all cylinders and spitting internal rhymes and assonants off in every direction. The instrumental's snapping snares are like machine gun fire, and background synthesisers wail like sirens as each MC discharges rhyme after rhyme with dizzying prowess. The lyrics detail a shootout scenario between the cops and Yankee and The Brave, the album's two outlaw heroes who "don't mean no harm/But [who] truly mean all the disrespect." Right off the bat RTJ4 sounds urgent, as if we have joined Mike and El mid-pursuit, speeding down the highway in their Buick Grand National with a cavalcade of screaming police cars hot on their tail. The message being put forward is clear; strap on your seatbelts, because this is going to be a wild ride.
That two of hardcore hip-hop's most consistent artists are now in their mid-forties says much about the current state of the genre. Mike and El are natural products of the old school, and since emerging at the turn of the century each has worked alongside numerous legendary artists, in El's case both as MC and producer. RTJ4 pays homage to that culture, and is peppered with references to classic names like Jeru the Damaja, Ol' Dirty Bastard, Ghostface Killah and Raekwon. The pair's indebtedness to the old school is most apparent in the second track, 'ooh la la', which features an infectious vocal sample from Greg Nice, as well as a swaggering Gang Starr-inspired piano instrumental complete with scratches from DJ Premier himself. Despite its classic ingredients, the song manages to sound nothing like a throwback. RTJ are keen to celebrate their roots, but they refuse to don the rose-tinted nostalgia specs that many old heads cannot do without. Mike and El have no time to overinflate or revere the past because their gaze is too focussed on the present, and as a result, 'ooh la la' comes across less like a nostalgia-piece and more like a contemporary spin on the classic boom-bap formula.
The playful optimism of this track (with its joyously anarchic video) is not consistent with many on RTJ4, however. Throughout the album, the duo paints a harsh picture of life in modern America, depicting it as a place rife with wealth inequality, abuses of power and injustice. The topical subject of police brutality is explored in 'walking in the snow', the refrain for which is performed by previous RTJ collaborator and Three 6 Mafia legend Gangsta Boo. Here, Killer Mike delivers one of the most sobering verses of his career:
"And every day on the evening news, they feed you fear for free

And you so numb, you watch the cops choke out a man like me

Until my voice goes from a shriek to whisper, 'I can't breathe'

And you sit there in the house on couch and watch it on TV

The most you give's a Twitter rant and call it a tragedy"
The lyrics, written in reference to Eric Garner, eerily foreshadow the murder by chokehold of George Floyd that occurred little over a week before RTJ4's release. Mike calls out America's unwillingness to tackle these cyclical tragedies and goes so far as to prophesy "They comin' for you the day after they comin' for me", a conscious echo of Martin Niemöller's famous poem 'First They Came…'. Mike's message is an important one; police violence against African Americans is a problem not just for African Americans, but for all in American society. History has repeatedly shown what happens when specific groups are systematically targeted by those in power. As long as we are ruled by a politics of fear that encourages us to feel apathetic when faced with the suffering of those who appear different from us, then we find ourselves wandering further and further down the road towards fascism.
RTJ4 deserves recognition as an excellent work on its own terms, but its pertinence to the current climate of protest cannot be ignored. Just as Kendrick Lamar's To Pimp A Butterfly came to be associated with the BLM movement in 2015, this album likewise feels suited to the most recent evolution of the protests. Gone is the optimism of Kendrick's black-empowerment anthem 'Alright', replaced instead with an explosion of exasperation and anger. Politics and rap can often be unpredictable bedfellows, and many rappers whose lyrics venture into social commentary risk becoming unbearably corny (just ask anyone who has sat through an entire Immortal Technique album). By contrast, in his capacity as both an outspoken activist and rapper, Killer Mike's words remain forever grounded in honesty. As an everyday family man, he shuns the wannabe-revolutionary schtick, delivering instead messages that, though oftentimes brutal, are always infused with a genuine concern for human life. As a result, his lyrics and flow balance intensity and complexity in a way that puts other politically engaged rappers to shame.
Although Mike is an undeniably large presence, both on record and in the media, it would be a mistake to gloss over the contributions made by El-P. El shines as RTJ's producer and beatmaker, but he has always been one hell of a rapper too, and this album sees him delivering some of his most uproarious one-liners ever ("Got a Vonnegut punch for your Atlas Shrug" takes the prize for lyric of the decade so far). As always, El's beats punch hard and heavy, mixing weird and distorted electronics with rambunctious, head-bopping samples. Highlights include 'out of sight', which sounds like The D.O.C.'s 'It's Funky Enough' on steroids (and includes a surprisingly solid feature from 2 Chainz), as well as 'ground below' with its samples of Andy Gill's choppy guitarwork from Gang of Four's 'Ether'. It is on instrumentals like these that Mike and El's unparalleled chemistry shines through. Their ability to play against one another over a banging beat puts them amongst the best MC pairings of all time, on a par with the aforementioned Ghost and Rae, not to mention Tip and Phyfe, Snoop and Dre, or even (best of the best) Andre 3000 and Big Boi.
Of course, the album's pertinence does not make it a collection of solidly perfect material. Mid-album songs like 'holy calamafuck' and 'goonies vs. E.T.' lack the vibrant energy of the duo's best, even if lyrically and instrumentally they are by no means weak. Furthermore, while the Pharrell Williams and Zack de la Rocha featured 'JU$T' does posit a clever link between the "slave masters posin' on your dollar" and America's psychological obsession with the pursuit of capital, the criticism feels somewhat toothless given that many RTJ brags also revolve around material wealth ("Made dollar, made cents, made money, money, money", Killer Mike unselfconsciously reminds us on the very next song, 'never look back'). Still, such inconsistencies aside, RTJ are usually successful when it comes to applying serious critique with their lyrics. Penultimate track 'pulling the pin' dispenses with all dick jokes and brag raps to explore the evils of power and money. Both MCs give outstanding performances, outlining their frustrations with the callousness of the wealthy and the difficulties of side-stepping a tendency towards self-destruction. Legendary gospel singer (and unlikely collaborator) Mavis Staples sings on the chorus, "There's a grenade in my heart and the pin is in their palm", a line that illustrates the sorrow of knowing your very wellbeing and existence are determined by the capricious whims of your oppressor.
The poignancy reaches its climax, however, with the album's closer, 'a few words for the firing squad (radiation)'. This track may just be the most complex, most personal, and most mature Run The Jewels has ever put out. Mike and El reflect on their abilities to remain strong for their families, dedicating their words to "the never heard", "the holders of a shred of heart", and "the do-gooders that the no-gooders used and then abused". Instrumentally, El-P cranks the tension up to eleven with live strings and a throbbing bassline that ticks steadily forwards like a timebomb. Eventually, the centre cannot hold on any longer; the track explodes into a tumult of weeping saxophones and crashing drum fills as all restraints are abandoned and the unheard voices of the voiceless begin to roar. As a closer, it feels extremely raw and emotive, the musical reflection of a society approaching boiling point, where nothing remains but to demand serious change through vocal, organized protest.
Still, this is an RTJ album, and to leave things on such a sober note wouldn't feel right. As the intense clamour of the live instrumentation subsides, the album delivers its final surprise in the form of a fictional theme song for Yankee and The Brave. The tongue and cheek voiceover presents our heroic outlaws as being on the run from the law with "a better chance of killin' each other/Than beatin' the odds." It is clearly supposed to function as a light-hearted finale, but in the context of current events and the seriousness of the album that precedes it, even this whimsical outro contains a peculiar weightiness and poignancy. As RTJ4 fades to a close, we can almost imagine the two outlaws riding off into the sunset, brandishing a stash of stolen money and aiming a middle finger at anyone stupid enough to stand in their way.
RTJ4 finds EL-P and Killer Mike at the very top of their game, ready to confront anyone who dares suggest that rap in 2020 has lost its subversive edge. Both MCs sound primed and pissed off, and you get the feeling that, despite the twenty years that have passed since their careers began, neither have any plans of retiring from the rap game soon. Time and again, Run The Jewels have asserted themselves as a pairing who only seem to get better as most of their peers fall off. At this stage in the careers of El-P and Killer Mike, it should be no stretch to suggest that they deserve consideration alongside the genre's greatest. Few artists in hip-hop can boast the sheer consistency these two have enjoyed, and for that alone they deserve their place in the pantheon. As Yankee and The Brave speed triumphantly off into the distance, you cannot help but wonder whether future listeners will be better placed to judge this album than we are now. In years to come, when we look back (hopefully from a better place) on George Floyd and the protests his murder gave rise to, it seems almost certain that Run The Jewels will be recognized as having provided the soundtrack to this tumultuous moment in America's already tumultuous history.